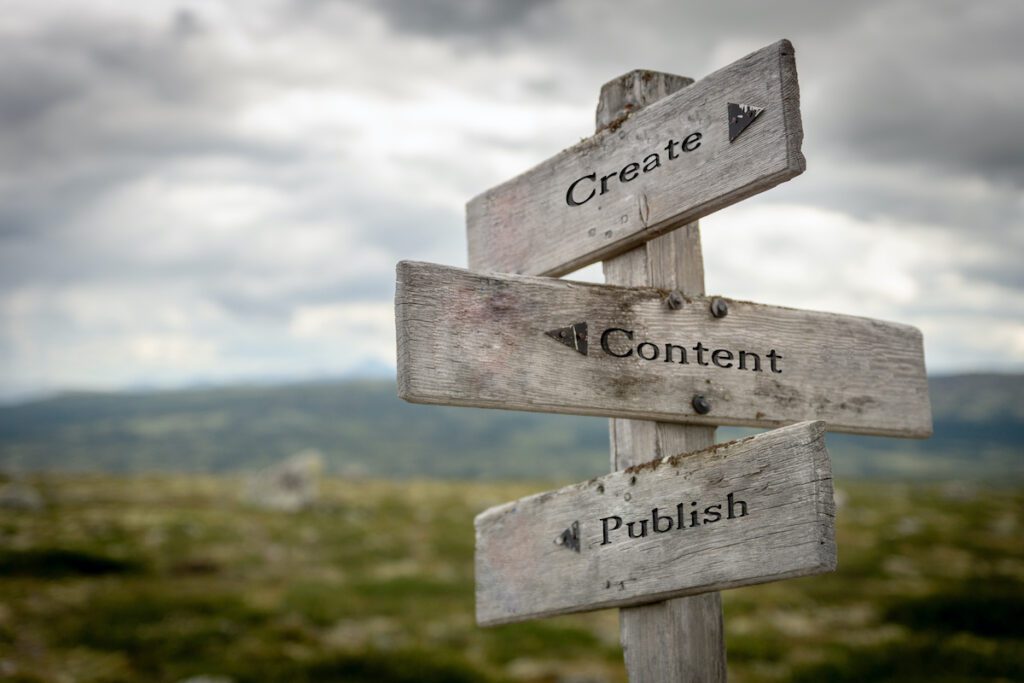 Having an online presence for your business or organization is great because it broadens your reach to your target audience. However, without excellent web content, you might not be able to represent your brand favorably. But what if you aren't a professional writer? To maintain a website or blog, you need to provide new and returning visitors to your site relatable and invaluable content they can engage with and further build a trusting relationship with your brand. 
To Value Your Brand Is to Value Your Online Content
If you've attempted to publish regular content for a few weeks, you've probably discovered by now that it takes a commitment. For example, you have to follow trends and frequently brainstorm topics to write about, depending on your publishing frequency. You could be adding online content three or four times a week or multiple times during the day.
Publishing a few times a day or week isn't a bad idea—especially if you want to increase brand awareness. With steady and worthwhile content, you could become an authority and thought leader within your industry. For some companies or other institutions, it can be quite demanding to keep up with regular content creation. Most times it's because other aspects of day-to-day operations may require more time and attention. But once you've gained a following or increased the number of visitors, you have to be consistent with content; you have an obligation. The goal is to keep your audience satiated with excellent content. 
With those requisites alone, you have more than adequate justification for deciding to outsource your content needs. Thousands of freelance writers are in the market competing for the same opportunities you could give them. The writer you need could be a few emails, phone calls or video chats away from your next viral post. Each journalist, content writer and copywriter waits with hybridizing emotions—anticipation and angst—for an acceptance email or they willfully count the long days until one of their pitches gets approved. 
How Do You Hire a Content Writer?
How do you recruit a writer from the vast marketplace and freelance writer pool? What should you look for when reviewing applicants for your job posting? If only it were as simple as telling somebody what you want and voilà, it's done in time to meet your deadline. 
Some platforms make it easy and convenient to find writers to bid on your particular job or voluntarily commit to completing it for you based on the details you outline in what's called a "brief." In your client briefing, you can provide details about what you need, which includes word count, format, style, purpose, and other particular wishes you have for the content. 
Depending on the layout of the platform, you can also use the brief to list sources the writer could use, like links to websites with similar content or information about a topic or product, and you could upload documents with additional instructions or more reference material. Then, the writer, also known as a "creative," writes an article, advertorial, promotional copy, blog posting, and whatever other content you request. If there are no complaints or revisions required, you promptly render payment to the creative for the finished work, and you're on your way.
It would be nice if everything always went smoothly and satisfactory. Unfortunately, there's a much more inverted version of that process when it comes to working with some of the boutique agencies and content creation services out there. 
It doesn't matter how attractive the mill's guaranteed turnaround time is, or how economically sound their competitive rates seem. Some agencies can lure you in with their dynamically responsive user interface that is uncomplicated and the stunning aesthetics of their website. Even if the writing service appears on the first page of Google's search results, it can still be somewhat of a hit-or-miss trying to find a professional writer who is capable of delivering the exact content you need. 
Not Every Writer Is Created Equal
There are 26 letters in the alphabet and each writer has freedom to use them freely to make the same words, but the caliber of these professionals are not necessarily indistinguishable from one another. Every day, thousands of writers register with platforms, freelance communities and writer marketplaces to have access to a "gig" or available work. On the other side, there are just as many consumers who put their content requests in the slot machines of some shabby online content platforms.
In reality, some of the greedy content mills could care less about the quality of the content you receive. They might promise to have only vetted creatives who've each graduated cum laude, but really all they want is your credit card number and CVV code. It might surprise you to know that behind the scenes, some of these content writing services are impervious to the economic needs of their writers and lack a suitable degree of respect for their creative craft, effort and time.
You must be judicious when considering a relationship with some of these predatory content places because they do not always yield the most positive user experience. Truthfully, you can't expect satiating results—authentic content written with considerable virtuosity—by feeding quarters into a vending machine.
Here are a few reasons why this sort of disappointment could happen: 
Not every writer has a working knowledge and functional comprehension of SEO copywriting and content marketing.
The writer community has many imposters, amateurs, and downright horrible writers lacking creativity.
Not all writers can meet deadlines or effectively communicate with clients.
Finding a creative who can provide the desired style with the tone you need can be a challenge. It could cost you time, derail workflow and precipitate any number of other disappointing circumstances. 
Are Author Marketplaces Sufficient?
It takes time to find a qualified writer, especially when you post your job in marketplaces with a quantum number of writers on their grind—all thirsty for a 500-word article or two. Each one of them possessing something different from the creative before them who stalks the job boards and hops on job feeds to exhaustion, waiting for the next opportunity. 
If you've attempted to survey an online marketplace for creatives before then, you know already that within milliseconds of hitting the button to post your job, portfolio links and resumes bombard your Inbox. That's what you can expect when the work-to-writer ratio is disproportionate. Some content platforms leave your opportunity sitting on a job board for days or weeks before assigning a writer or before an available writer sees it and agrees to write it.
There's nothing ineffectual when using multiple platforms to find writers, but when all is said and done, you need to work with the ones who can meet all your content needs. If you invest time and money looking for a writer, make sure you are getting the best for your business or organization. 
There are two elemental things to keep in mind when scouting for candidates: 
Don't sacrifice quality for cheap rates. If you want excellent content, then don't get suckered into sites that offer content creation for less than you would pay for a slice of pizza. Remember, the material you are purchasing will have your brand's name on it. It's a portrayal of your values, quality, integrity, innovation and undoubtedly your reputation as an authority in your industry. You get what you pay for most of the time. So, you shouldn't expect top tier content if you're getting invoiced for a rate that's commensurate with subpar work.  
Be specific about what you want. The less you leave open to interpretation, the better your chances of getting back what the content you want. When looking for a writer, let prospective candidates know what you need in as a descriptive way as possible. Everyone has an imagination, and a vision is null without interpretation and detail. Do your best to outline what it is you are looking for precisely, and without a doubt, you'll get exactly the piece of content you requested.
Who do you consider a viable and adept choice to handle your content needs? When you outsource to a content writing service, such as Content Done Write, for example, you must trust that your writer can produce content that efficaciously speaks to your brand's worthiness for always providing valuable, authentic and engaging information to its customers and followers. You want the writer to adequately articulate your message in your firm's voice by creating excellent content that captivates, entertains and informs. 
Hiring a content writer could be the best move you make in 2020. People have questions and needs; they are looking for authoritative sources who can offer solutions and expertise. Content is forever king, and established writers all over predict that its majesty will only ascend in its powerfulness and dominance during this digital reign—the Fourth Industrial Revolution.